Nicole Bachmann

Presented by — VITRINE
Nicole Bachmann, a circle whispering dot, 2019. Performance at Swiss Art Awards. Photographer: BAK/Guadalupe Ruiz. Courtesy of the artist, Swiss Art Awards and VITRINE London/Basel.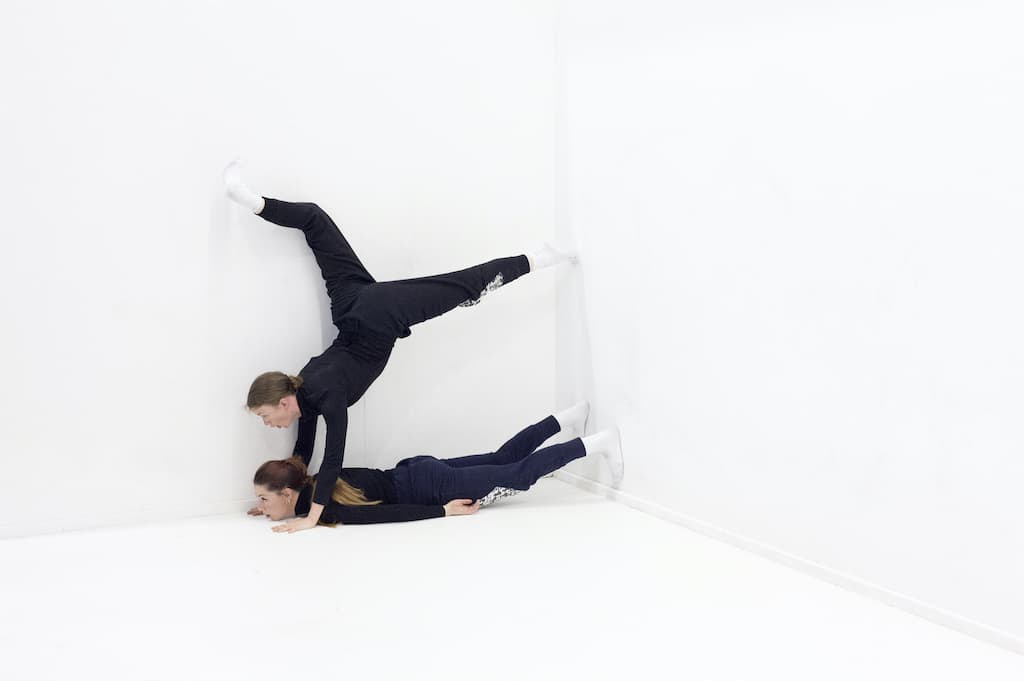 Bachmann's performance A circle whispering dot examines the relationship between voice, gesture and social norms, asking questions such as: How can we free ourselves from set definitions enforced by narrative power structures and use other forms of communication — such as abstract words, tone, gesture, movement, rhythm, resonance and repetition — in order to create meaning?
The movement and the voice form an embodied vocabulary, through which the three performers of the piece navigate fragmented exchanges. There is a continued transaction between articulate and inarticulate speech, which probes the edges of subjectivity.
Conditions of production
The performance is conceived for indoor presentation. The location needs to have three (stable) walls and be quiet. The floor needs to be flat and suitable for dance. The performers work with the artist or assigned choreographer in advance of the performance, learn the text and movements. Performers' voices are not amplified. The work requires 25 hours (3 full days) of rehearsals with new performers or 16 hours (2 full days) with performers who have worked the piece before.
Rules of documentation
The performance can be documented as stills, video and audio. These may not be shown as alternatives to the work itself or distributed beyond the following: Stills can be used for PR/comms, documentation and archive. Short video and/or audio excerpts from the work (20 seconds max) may be used as comms material on social media but neither video nor sound documentations may be shown in the gallery as work, only kept in archive/documentation for research and conservation purposes.
Casting
Cast needs to be diverse (race)
Gender mix of 2x female identifying and 1x non-binary
Age can be any age
Two performers have to be dancers (roles of Pat and Sonya)
Role of Sonya is also a singer / has a strong voice
Role of Pat a dancer with a background in Ballett, angular, straight lines, non-native english speaker
Role of Seven needs to be cast with a singer, has a strong and powerful voice who is comfortable moving.
All performers need to be at ease with improvisation and using their voice
Costumes
Jogging trousers made by artist
Top black turtle neck.
White socks
Collectables
Printed artist script, with handwritten annotations (original).
Script as a PDF file (which can be printed for rehearsals): including instructions, to be used as material for performers.
Performer Notes — a document containing more detailed notes on performance strategies for those training to deliver the piece.
Costumes — Jogging trousers made by artist (to be worn with standard black turtleneck and white socks)
Casting Document
Documentation of two past performances in different places (for archive/training purposes only): Bolte Lang, Zurich (2019) and Mimosa House, London (2019).
Training video — Artist talking about and demonstrating the core strategies for rehearsing and staging the piece.
A Circle Whispering Dot