A Seat For a Young Boy/Tête-à-Tête
Agata Madejska

Presented by — Belmacz
Pendulum, 2022. 4K video. Courtesy Belmacz. Seat for a Boy — installation detail. Courtesy of Peter Otto and Belmacz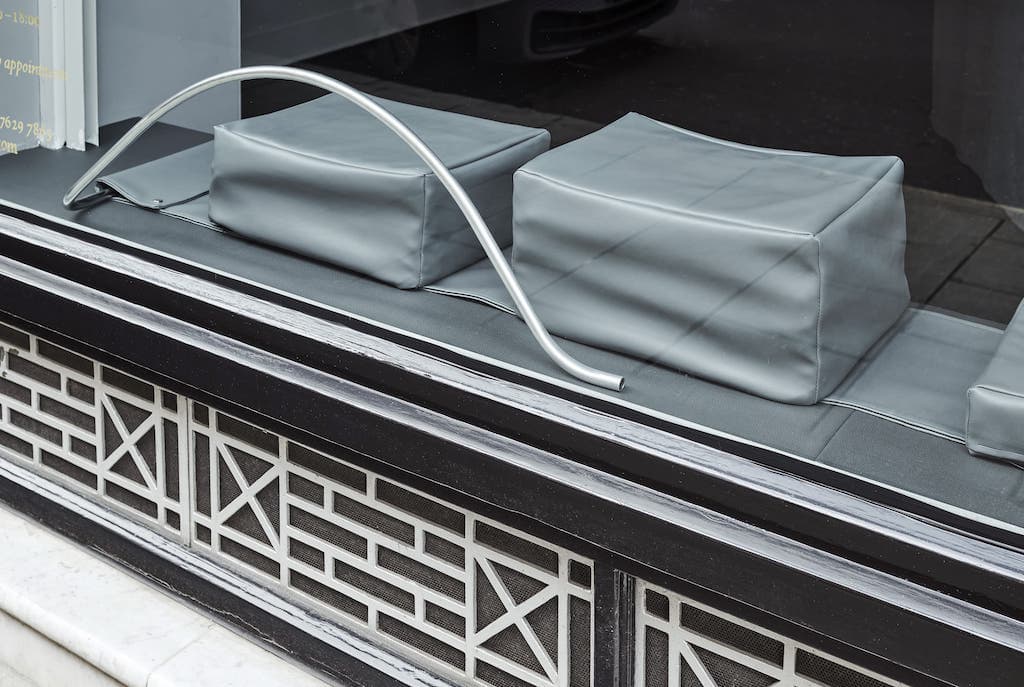 Departing from Agata Madejska's research around the histories of societal structures — how these become, and become embodied within peoples and populations — the subtle performance A Seat For a Young Boy/Tête-à-Tête (2022), takes the form of a fictious conversation between Charlotte Perriand and Charles-Édouard Jeanneret (better known as Le Corbusier). Taking place on Madejska's sculptural work, Seat For a Young Boy (2022), the performance holds ideas in tension around how power is diffused through various social architectures — be these of the state or of the home.
Description of the Work
Staged upon Agata Madejska's sculpture, Seat For a Young Boy (2022), this performance is a scripted conversation, read and performed by one performer who uses voice changing microphones to shift between the two protagonists.
As the conversation progresses, the performer moves between the seats that make up the sculptural work, changing microphone in turn. These shifts indicate a shift in speaking protagonist.
Based on archival conversations with Perriand and Le Corbusier, the script developed for this performance is both pointed and abstract, enunciated in calmly without fuss or extraneous enunciation.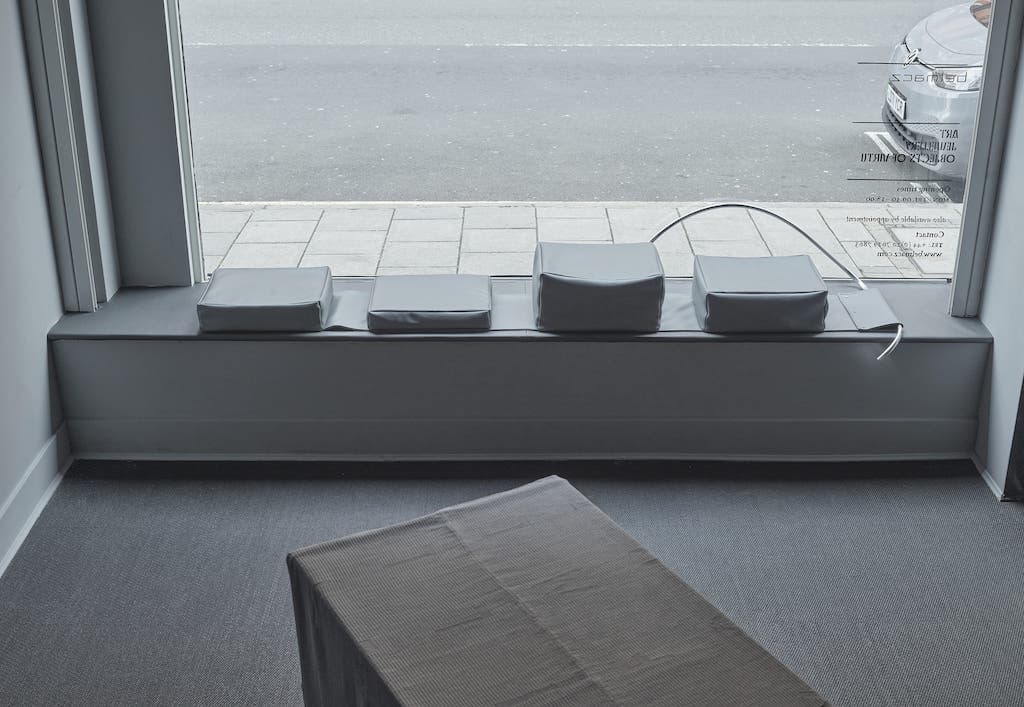 ---
Conditions of Production
Technical requirements and props
Two voice changing microphones — each set to a different output frequency
Conversation and performance script
Staged upon Seat for a boy, 2022.
Space requirements
Natural space, no loud colours or details that may distract from the performance
Stage in an inside space
The space will need to have an electricity supply — access to electricity is needed
Performer
Can be of any sex or gender
They should be neutral in overall demeanour
Dressed in smart office wear — tones of white, grey, and black
They will need to be able to be able to move between seats as the conversation progresses — as the speaking protagonist changes
They will need to feel confined with the script and talking into the voice changing microphones
Rules of Documentation
The performance can be documented for personal or academic purposes. Excerpts of documentation can be used for other purposes (ie, for marketing or promotion) in agreement with the Artist or their estate. Any documentation will be an aside to the work.
---
Copyright/IP specifications
Agata Madejska will be fully credited for the performance and in any documentation.
Other conditions of sale/protocols of work for sale
The performance is a unique work. The acquisition of the performance will include one of the sculptural editions of Seat for a boy (2022), alongside two voice changing microphones and the conversation and performance script. A certificate, signed by artist, will accompany any acquisition also.
Loan/Resale conditions (if in addition to above — for e.g. artist's permission in advance of loan staging)
The artist or their estate, should be contacted prior to any re-staging of the performance. Any representation or restaging of the performance will need to credit Agata Madejska.
Collectables
Seat for a young boy, 2022 (part of editioned series — 3 + 2 AP)
Conversation and performance script (with certificate signed by artist)
A Seat For a Young Boy/Tête-à-Tête