Dawn Ng

Presented by — Sullivan + Strumpf
St. Cyprian's Church, Glentworth St, London. Part of Performance Exchange, curated by Rose Lejeune. Singers: Rebecca Hardwick, Jess Dandy, Feargal Mostyn-Williams James Robinson, Ben Rowarth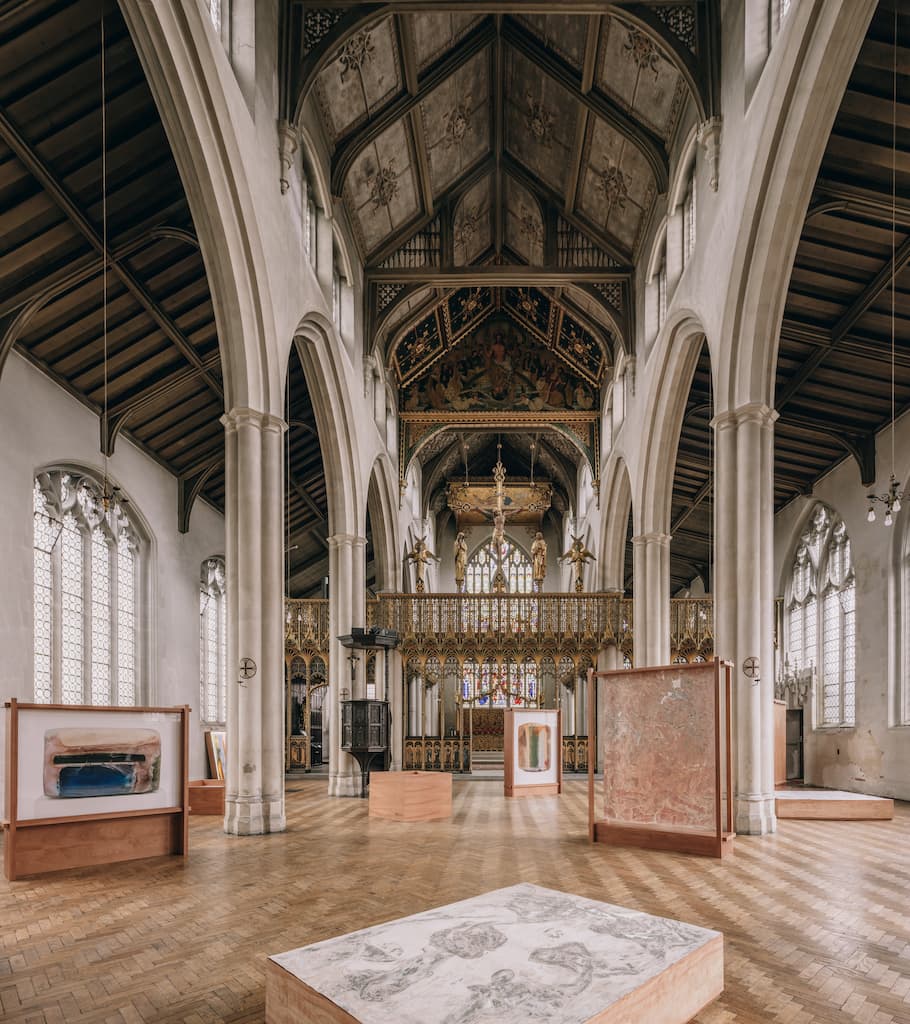 Into Air is a choral performance piece born from a close collaboration between Welsh Composer, Alex Mills, and Singaporean Artist, Dawn Ng.
The live choral piece unfolds in harmony with a timelapse film from Dawn's most recent body of work, documenting the start-to-finish disintegration of a large block of frozen pigment from monumentality to nothingness. In tandem with the luscious collapse of ever-shifting hues and textures, the music, pauses, breathes and reflects in response, forming an ethereal companion to the film.
In the performance itself, five singers undergo a musical meditation, where each moves through the music to the rhythm of their own breathing patterns, one bar of music for every exhale. Mirroring the cascading pigments in Dawn's film, the musical structures slowly build and disintegrate, evolve and transform, melt and evaporate. Textures, harmonies and colours — some delicate, others more pronounced — appear, disappear and re-emerge. Combining different singers' breathing patterns gives the piece an indeterminate quality: the piece will never be the same twice and may be radically different from one performance to the next.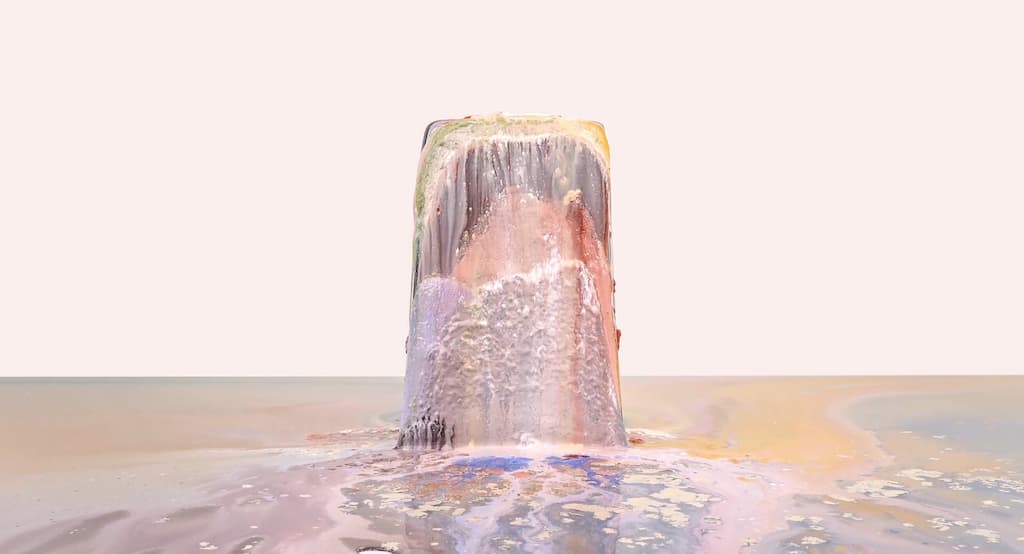 In this intimate and haunting performance where voices and imagery converge and unfurl, breathing song to materiality and materiality to song, one is left to suspend and ruminate in each present and passing moment.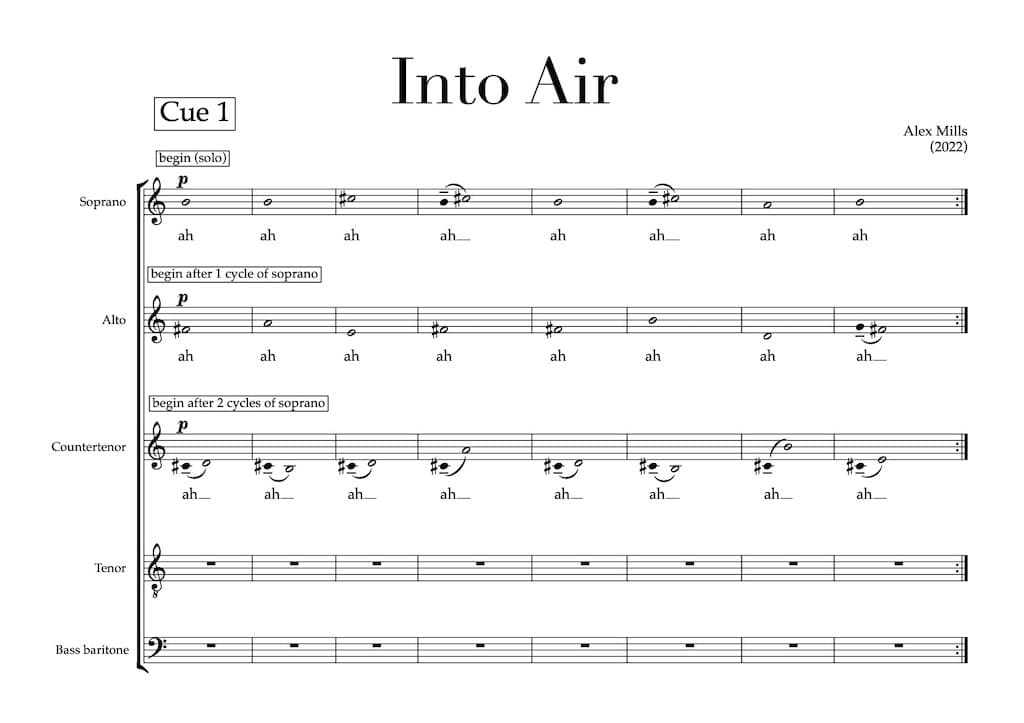 Performance Instructions
The performance is site-sensitive. It should take place in as large and resonant space as possible, such as church, hall, warehouse, atrium, or other similar environment. Singers should be positioned around the space to explore, and take advantage of its particular acoustic. Therefore, this performance is just one realisation of the piece.
---
About Alex Mills
Alex Mills is a London-based composer with an output spanning opera, orchestral music, choral music, chamber music, and works for dance, art installations and film. His music has been widely performed, including at the Barbican, The National Gallery, the V&A, Wigmore Hall, King's Place, Café OTO and broadcast live on BBC Radio 3 and 4.
He has a particular interest in how music can express emotions and how it can impact the emotional well-being of both performers and audiences. Recent works have explored how to embed meditation practices into musical performance to create a new modality of music-making that prioritises mental wellbeing and promotes a more open and fluid approach to making contemporary 'classical' music.
The Guardian have described his work as "music of supernatural poignancy, melodic but otherworldly, narratively urgent but poetically impressionistic."
Originally from Pembrokeshire in Wales, he studied music at the University of Cambridge and a Master's in Composition at Guildhall School of Music & Drama, for which he was awarded a distinction.
About Dawn Ng
Dawn Ng is a multi-discipinary visual artist, who has worked across a breadth of mediums, motifs, and scale, including sculpture, photography, light, film, collage, painting and large scale installations.
Her practice deals with time, memory and the ephemeral. Often characterized by lyricism and a nuanced use of colour, Dawn's work has been acquired by the Singapore Art Museum, and exhibited at the Musee d'art contemporain de Lyon, and the Lille3000 art festival, France. She has had solos in Art Basel Hong Kong and the Art Paris Art Fair, and shown in Sydney, Shanghai, Jakarta and New York. In 2016, Dawn was commissioned by the Hermes Foundation to inaugurate their Singapore gallery with a solo installation, and was also part of the Jeju Biennale, Korea in 2017. In 2019, Dawn was commissioned to fill a wing of the Art Science Museum for their Floating Utopias exhibition, and opened a commissioned solo at the Asian Civilisations Museum in 2020.
Collectables
The performance and film are to be sold together as a single work. The film can be exhibited without the performance, but the performance must always be presented in tandem with the film

Video work by Dawn Ng
Score by Alex Mills
Performance instructions
Into Air