Now That I Am Here I Am Ready To Leave
Tim Etchells

Presented by — VITRINE
Tim Etchells, Now That I Am Here I Am Ready To Leave, 2021, for VITRINE part of Performance Exchange London, July 2021. Image Courtesy Performance Exchange and VITRINE. Photo: Damian Griffiths.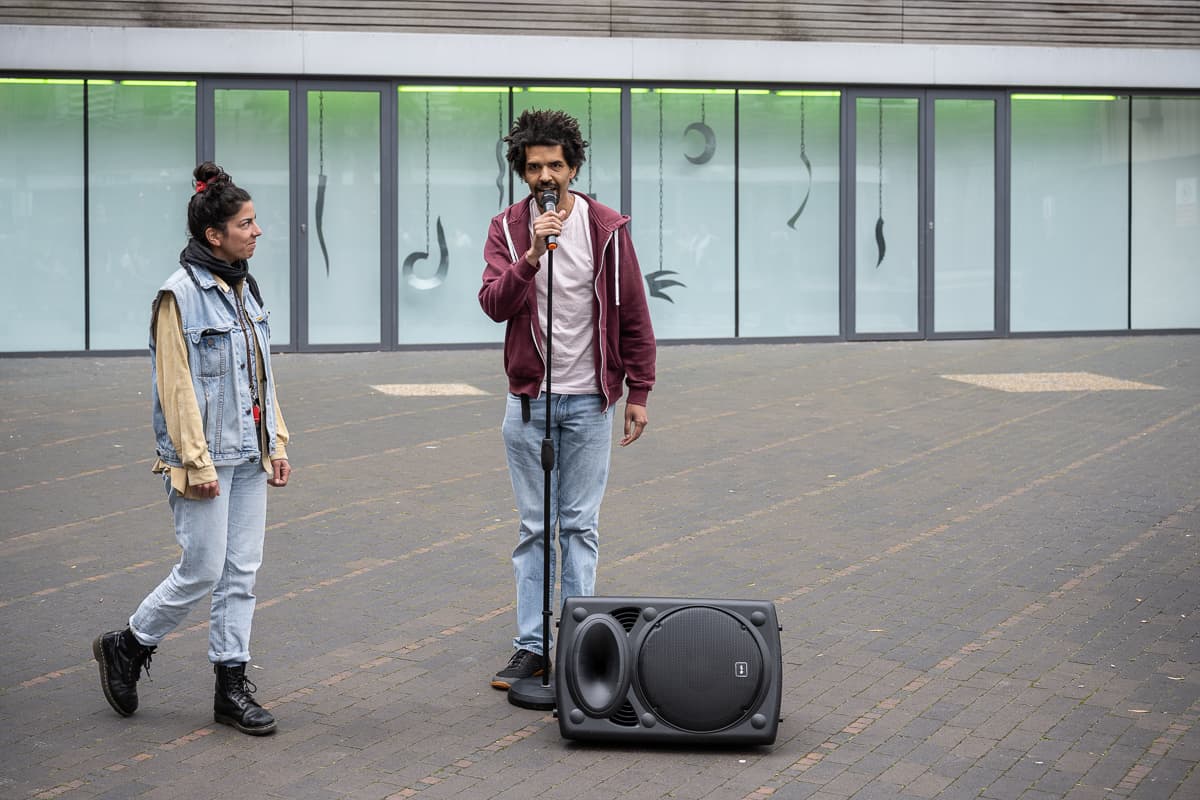 Now That I Am Here I Am Ready To Leave, involves a single performer with a simple mobile battery-powered PA speaker on wheels, plus a microphone and stand.
The performer wheels the speaker kit into place of their choosing, stops, puts mic on stand, then says a short text which gets amplified by the PA speaker. When this is done they wheel the speaker to another place, perhaps just a few metres away, facing in another direction, and do the same thing with a different part of the text. Then they wheel the equipment a few metres to another spot and repeat etc. Each performance in total can be as short as 15 minutes or as long as an hour. At 15 minutes it's framed as a performance that people can watch for the whole duration, whilst at longer lengths it's more like an ongoing task or activity in the location which people may see parts of.
As the piece goes on the performer plays with coming close to people, circling or moving into 'audience'… also they play with distance - walking 15m away and making an announcement in a corner where there's no audience, or facing the traffic or facing a wall. In this process the performance explores the idea of 'saying something in public' (an announcement or personal statement) but also the matter of 'looking for the right place to say something' or 'wanting to tell something to the whole world, passing the information in all possible directions…'
---
Conditions of Production
The piece is conceived for outdoor and indoor presentation.
Outdoor locations could be a public space outside the gallery or another venue linked to an exhibition or programme or other public spaces. Indoor locations could be a large gallery (ideally something like 12m x 8m but could be smaller in consultation with the artist), or a public foyer, atrium, large internal public space.
Rules of Documentation
The performance can be documented as stills, video and audio. These may not be shown as alternatives to the work itself. Stills can be used for PR/comms, documentation and archive. Short video and/or audio excerpts from the work (20 seconds max) may be used as comms material on social media but neither video nor sound documentations may be shown in the gallery as work, only kept in archive/documentation for research and conservation purposes.
Collectables
The work, for the purpose of acquisition, comprises

Score — archival acrylic drawings on unframed a5 papers setting out the text and its changing iterations.
Simple Instructions — a document setting out the core rules, score and structure for the performance.
Performer Notes — a document containing more detailed notes on performance strategies for those training to deliver the piece.
Documentation of the someone performing the piece (for archive/training purposes only)
Training video — Artist talking/demonstrating re core strategies for performing the piece.