Paul Maheke

Presented by — Goodman Gallery and Galerie Sultana
Paul Maheke, Taboo Durag, 2021, performance at Goodman Gallery, London as part of Performance Exchange, 9th July 2021. Image Courtesy Performance Exchange, Goodman Gallery and Galerie Sultana. Photo: Damian Griffiths.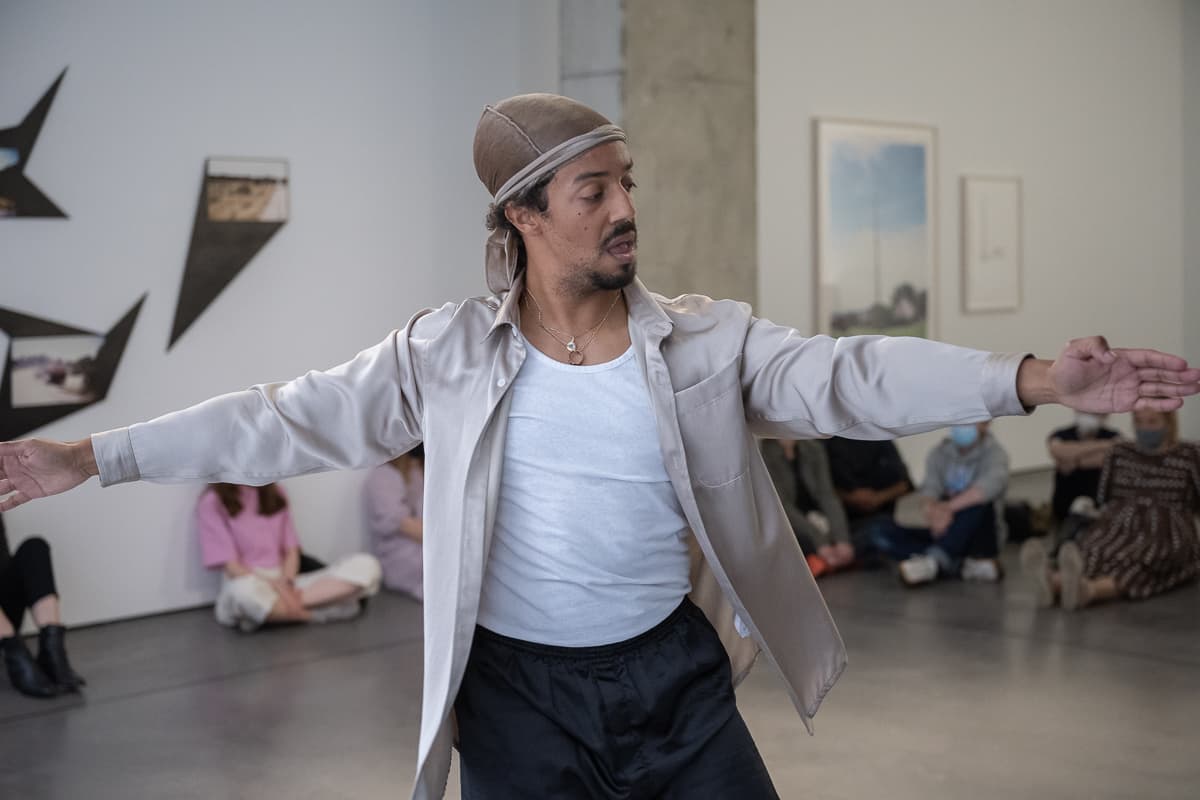 Paul Maheke's Taboo Durag (2021) is a performance work that explores the porous interface between vulnerability and resilience. A dance solo unfolds different narrative and choreographic registers with a score that swells up through bass-heavy ambience and vocals.
Created during the 2020 lockdown, the intensely personal work is rooted in the ways in which invisible, and yet sometimes very concrete forces affect our bodies as well as our identities and how we experience ourselves. These forces comprise everything from the political and social understanding of our history, to more mystical and spiritual understandings, as well as the sonic and inter-human and physical forces such as gravity that surround us.
Conveying a narrative around violence and acts of violence over other bodies, knowing that the audience will themselves carry their own personal histories, as well as their own cultural references, Taboo Durag utilises sound, text and movement to speak to themes of trauma and, in turn, healing, both as personal catharsis and as a way of reaching out to establish a form of touch, without physical contact.
Artist's Statement
My practice is based on simple gestures that once consisted of placing works in public space. It has now expanded to video, sound, installation and performance.
The research is grounded in de-colonial and emancipatory thought with a focus on how history, memory and identity are formed and constituted. It considers the body as an archive, a territory with its own cartography, using its physicality as a pathway to information and meaning-making. This manifests more specifically in the performances as an investigation into physical memory.
Through a varied and often collaborative approach, I look at the ways in which alternative positions can inform and alter knowledge production.
Exploring with different presentation formats such as open discussions, staged performances or exhibitions, I delineate metaphorical spaces in which the body resonates with and echoes the broader socio-political context that has birthed it.
By combining several media and using feminist, post-colonial and queer voices my work intends to confront hegemonic thinking and explores peripheral discourses in order to address principles of dominance. It's also a way for me to question social and geographical relationships to power.
With particular attention to dance, the performances and installations speculate on embodied stories and seek to re-articulate systems of representations that emerge from Western imaginations.
These works are often bathed in colourful lights and set in motion by pulsating soundtracks. They embrace a multiplicity of logics and voices: for instance, they can house a series of public events as well as other artists' interventions; I regularly collaborate with music makers and producers, choreographers, performers and dancers.
I intend for the environments I craft to be experienced as poetic yet political spaces where the body is purposed as a site for resilience.
In the context of my exhibitions and performances, I consistently attempt to adjust the distance between the outside and the inside, the audience and my practice. The use of different forms of speech, words or elements such as curtains, window filters and metal railings, for example, play a significant role in their functioning: one of a permeable membrane or a fluid border that contains as much as it hosts — like in a body, most of my work relates to the idea of necessity and coexistence.
Commissioned by the Roberts Art Institute as part of Glasgow International. With the support of Bétonsalon (Research and Development)
---
Conditions of Production
Where possible the work will be performed by Paul Maheke but future presentations of the work can be interpreted by a performer in accordance with the artist's guidance.
Future performers do not need to be formally trained as dancers but should be able to perform the score accurately. The performer should be a person of colour and male identifying.
The Artist, or his representatives, must be consulted upon the hiring of each performer at least 30 working days before the performance takes place and must approve the choice of performer before they are hired.
The collector must provide the performer with a fee which aligns with the artists union recommendation. The performer's fee must include a rehearsal fee.
The collector must cover all the expenses related to the performer's travels, accommodation and per diems.
Costume
A durag, a loose fit shirt, a vest, a pair of fluid baggy shorts, mid-calf socks, knee pads, high top sneakers matching the clothes worn by the artist in the video work of the same title as closely as possible.
Space
Cleaned and even floor, reasonably sized space with a minimum of 4m x 5m for the performer. The show is not proscenium or frontal, and it requires the performer to be surrounded by the audience, in the round.
---
Transcript
(extract: minutes 1 - 10)
00:00:03:14 --> 00:00:06:16
[A darkened room. A performer is walking into the spotlight.]
00:00:06:18 --> 00:00:12:20
[They are wearing black socks, knee pads, silk shorts
and a shirt, which is left open, showing a white vest underneath.]
00:00:13:00 --> 00:00:17:04
[The performer is standing in the middle of the spotlight,
looking at the floor.]
00:00:17:04 --> 00:00:20:17
[A pair of blue sneakers and black durag
are on the floor at the edge of the spotlight.]
00:00:20:18 --> 00:00:27:08
[A continuous atmospheric, bright soundscape
becomes gradually audible.]
00:00:35:24 --> 00:00:39:07
[Human vocalisation that sounds like wailing
and singing overlays resonant soundscape.]
00:00:44:14 --> 00:00:48:05
[The performer twitches their fingers.]
00:00:55:03 --> 00:00:58:04
[They move their head and torso slightly.]
00:01:09:02 --> 00:01:12:23
[They bounce gently on their feet.]
00:01:22:12 --> 00:01:25:14
[They move their arms slightly.]
00:01:39:09 --> 00:01:43:11
[Jerky vibrations travel up their body rippling through their silk shirt.]
00:02:11:01 --> 00:02:14:02
[They slowly turn anti-clockwise.]
00:02:31:11 --> 00:02:35:12
[Their trembling become more pronounced.]
00:02:54:09 --> 00:02:57:16
[Arms becoming free and fluid.]
00:02:58:19 --> 00:03:02:22
[Their shirt falls off their shoulders,
revealing a sleeveless vest.]
00:03:37:22 --> 00:03:41:21
[They continue to bounce and twitch.]
00:04:07:08 --> 00:04:09:20
[The performer's voice harmonises with and responds to
the deep resonant vocalisation of the soundscape.]
00:04:25:12 --> 00:04:29:21
[They continue to bounce
and twitches their body and head.]
00:04:36:07 --> 00:04:38:17
[Their shirt falls off their shoulders.]
00:05:07:20 --> 00:05:12:06
[They vocalises harmonic sounds]
00:07:03:18 --> 00:07:07:01
[They pull at their hair.]
00:07:30:00 --> 00:07:33:13
[They pull at their hair and shakes their head.]
00:07:58:03 --> 00:08:01:06
[They bounce on their heels
whilst turning anti-clockwise.]
00:08:22:09 --> 00:08:25:20
[They stop bouncing.]
00:08:31:19 --> 00:08:35:05
[They walk a few paces, pulling their hair.]
00:08:50:09 --> 00:08:52:24
[They pull at their hair.]
00:09:06:02 --> 00:09:10:10
[They pull at their hair.]
00:09:32:11 --> 00:09:35:23
[Singing stops. Silence.]
00:09:35:24 --> 00:09:38:23
[They walk slowly.]
00:09:44:03 --> 00:09:46:12
[They stop by a pair of shoes and the durag.]
00:09:46:12 --> 00:09:48:24
[They pick up a shoe.]
00:09:49:00 --> 00:09:52:17
[They kneel down to put on their shoes.]
00:09:52:19 --> 00:09:59:21
[Start of synthesised, pulsating soundscape with high and dissonant tones that sound like bird-call — continues throughout.]
00:10:19:01 --> 00:10:22:04
[High-pitch tone pulses, increasing in volume.]
00:10:08:09 --> 00:10:10:22
[They are kneeling down tying their shoes.]
00:10:19:07 --> 00:10:22:16
[They pick up the silky fabric of the durag and stand up.]
Dance Notations
(extract: minutes 1 - 10)
They enter the space, walking in the centre of the room. A white wash overhead casts shadows on the floor.
Their gaze is low.
The soundtrack starts after they have reached the centre of the rectangle delineated by the light on the floor. A small vibration inside of their body. Small tremors in their hands and feet. The tremor becomes a jolt. It takes over their whole body. Starting from the feet up to the calves, down the spine and neck, all the way up to the top of their head. They slowly start to spin on themselves. A slow continuous spin and a jolt. They raise their gaze to look at the audience. Their whole body shakes as if the ripples of a vibration coming from the ground up would resonate increasingly inside of them: up and down. They start to perform vocals growing increasingly louder. They harmonise with the soundtrack. They play with the rhythm of it and repeat a sequence of vocals. The recorded voice and their vocals eventually overlay. The soundtrack stops. The performer continues to vocalise for a brief moment. They stop.They walk towards the pair of sneakers and durag which were placed in a darker corner of the stage. The soundtrack resumes. They put the shoes on. They pick up the durag from the floor and place it untied onto their hair.
---
Collectables
The performance is offered as a unique work. The Artist will perform the Work at the acquirers request's once within two years of the acquisition as part of the acquisition. Further presentations of the Work can be interpreted by a performer inline with the presentation requirements above.

The collector will be entitled to the following

A copy of the score
Printed performance guidelines for the re-enactment of the work
A framed silk-print on durag, edition 1 of 10
A digital file with the soundtrack
The rights to re-stage the performance in accordance with the guidelines and performance agreement
The owner will be credited in all future materials relating to the performance
Equipment
Speakers (×2 or ×4 depending on the scale of the space)
1 subwoofer
Taboo Durag