Goodman Gallery, London with Galerie Sultana, Paris
Presents:
Paul Maheke — Taboo Durag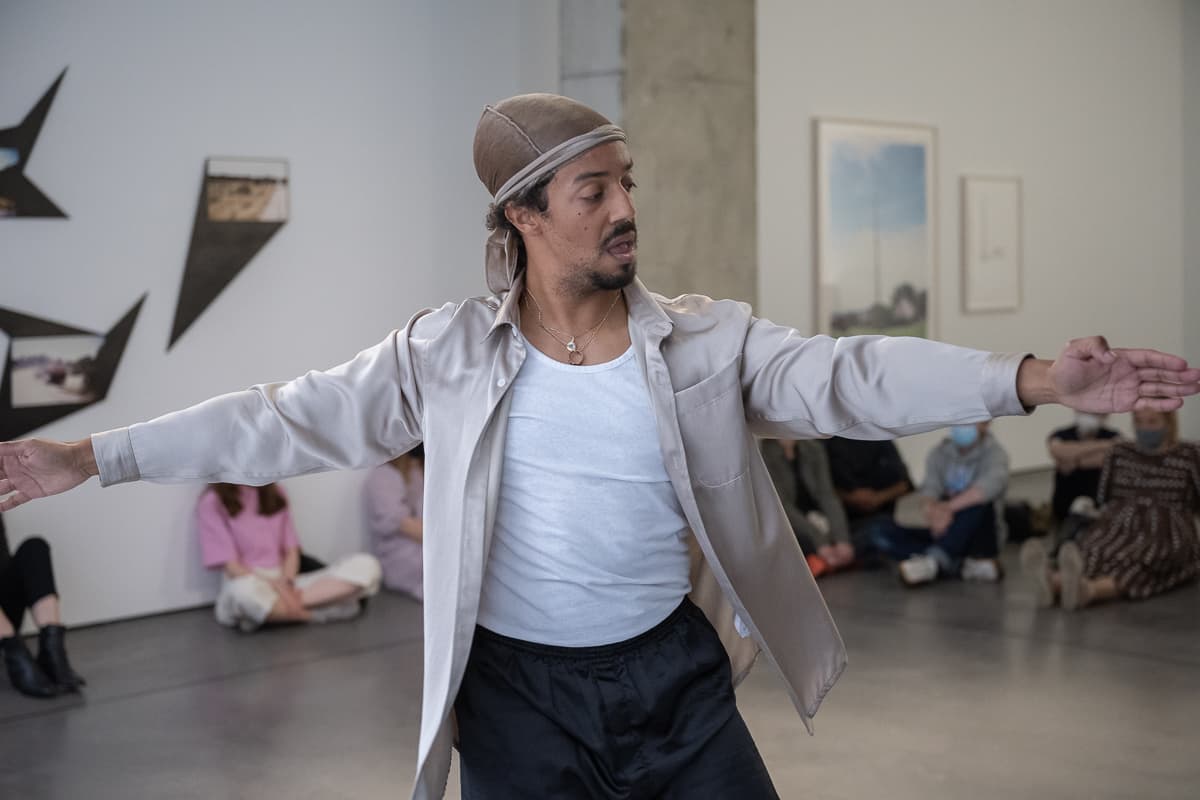 Paul Maheke's Taboo Durag (2021) is a performance work that explores the porous interface between vulnerability and resilience. A dance solo unfolds different narrative and choreographic registers with a score that swells up through bass-heavy ambience and vocals.
Taboo Durag is a co-presentation between Goodman Gallery and Galerie Sultana, Paris for Performance Exchange.
---
Goodman Gallery is an international contemporary art gallery with locations in Johannesburg, Cape Town and London. The gallery represents artists whose work confronts entrenched power structures and inspires social change.
Goodman Gallery has held the reputation as a pre-eminent art gallery on the African continent since 1966. It has been pivotal in shaping contemporary South African art, bringing Lisa Brice, David Goldblatt, William Kentridge, David Koloane, Sam Nhlengethwa and Sue Williamson to the world's attention for the first time during the apartheid era.
Since Liza Essers became owner and director in 2008, the gallery roster has grown by more than 30 international artists, with a focus on women from the African Diaspora and beyond. Goodman Gallery has a global programme working with prominent and emerging international artists whose work engages in a dialogue with African and post-colonial contexts. Some of these artists include Ghada Amer, El Anatsui, Candice Breitz, Alfredo Jaar, Grada Kilomba, Kapwani Kiwanga, Shirin Neshat, Ernesto Neto, Tabita Rezaire, Yinka Shonibare CBE, Mikhael Subotzky and Hank Willis Thomas.
Critical to this programme has been the introduction of two ongoing curatorial initiatives: "In Context", which explores tensions of place and belonging; and "South-South", which considers connections between artists from the "global south". Goodman Gallery's expansion to London furthers this mission to confront dominant historical narratives and to contribute to contemporary art discourse and social repair.
Goodman Gallery has a legacy of facilitating broader social access to art, serving in an institutional capacity through its public programming, publishing, and education. The gallery and its artists have a history of supporting NGOs in the healthcare sector and committed to advocating for human rights in South Africa. Since 2003 Goodman Gallery has raised R25 million (£1.4 million) for charities such as Orange Babies, Red Cross and most recently entering into a long-term partnership with the Witkoppen Health and Welfare Clinic.
Goodman Gallery, London with Galerie Sultana, Paris