König London
Presents:
Amalia Pica — The Drip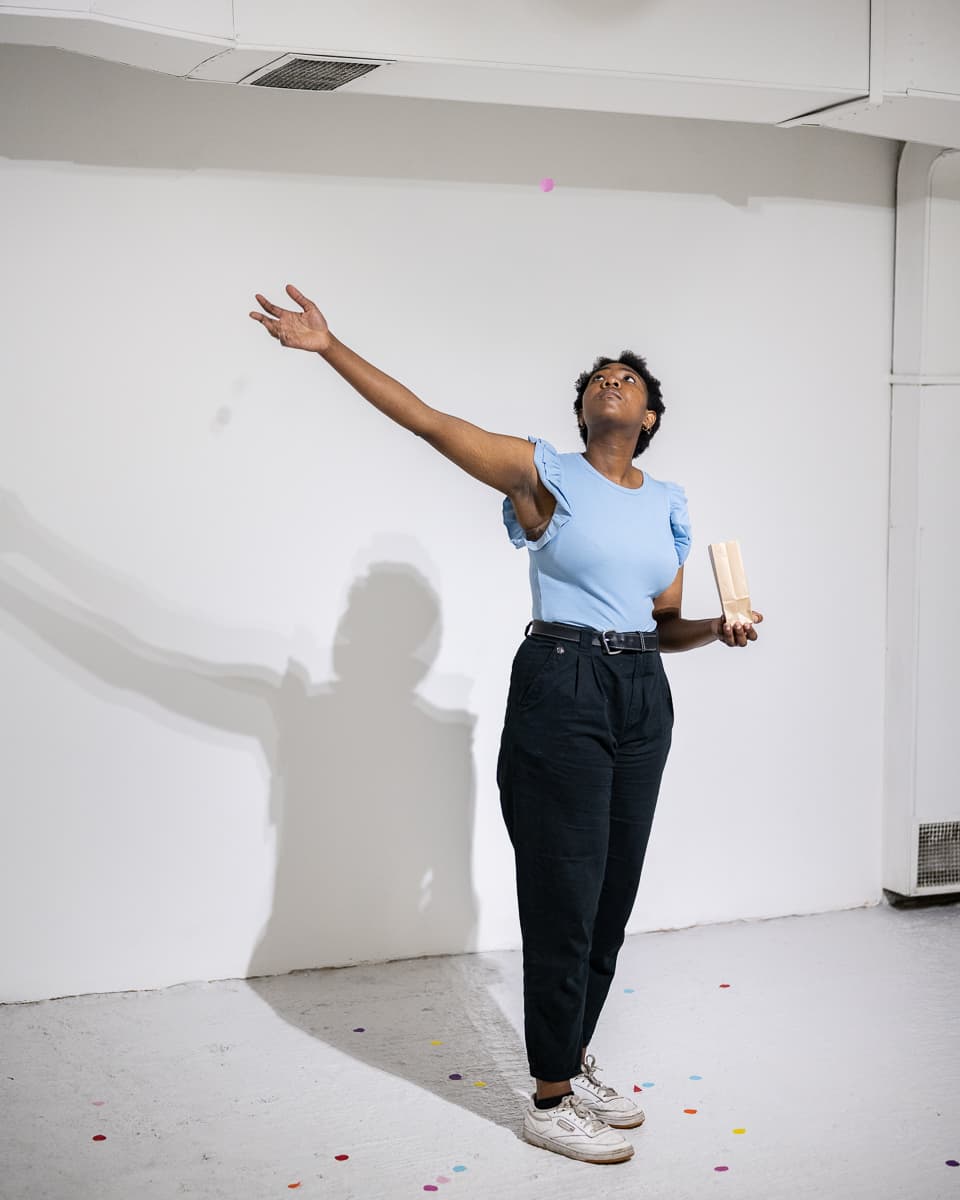 A person has a small bag of confetti. They stand in one spot and throw confetti into the air with a certain enthusiasm. They throw one piece of confetti at a time and watch it fall to the ground before throwing another one. Once they are done with all the confetti, they pick piece by piece off the floor, placing it back in the bag, and once they are done picking it up, they start again in a loop.
Pica's work deals with the complex mechanisms of communication and social interaction, as well as with social systems, bureaucracy and civic participation - themes shaped by her experience in the Argentine military dictatorship in which she grew up.
Pica works in a variety of media, including sculpture, installation, photography, drawing, and performance. The Drip is one of a series of performances that reflect on fleeting moments of shared experience, often incorporating the signifiers of celebration and communal gatherings with fiesta lights, party bunting, and confetti; confronting scarcity with resilient hope. As she explains: "It's about treating joy as something too precious to spend all at once."
---
KÖNIG GALERIE was founded in Berlin by Johann König in 2002, and currently represents 40 international emerging and established artists, mostly belonging to a younger generation. The program's focus is on interdisciplinary, concept-oriented and space-based approaches in a variety of media including sculpture, video, sound, painting, printmaking, photography and performance. In May 2015, KÖNIG GALERIE took up St. Agnes, a monumental former church built in the 1960s in the Brutalist style, where museum-like exhibitions take place in two different spaces, the former chapel and nave. In 2017, KÖNIG GALERIE opened KÖNIG LONDON in a former car park in Marylebone, London. In November 2019 KÖNIG TOKIO opened in Japan presenting artists that are based in Germany, Austria and Switzerland.
In April 2020, KÖNIG DIGITAL, the virtual gallery space, was launched with the aim to create experiences online. The digital visitor enters the exhibitions via the app KÖNIG GALERIE. KÖNIG DIGITAL presents digital solo and group shows by new media artists and by artists experimenting in the virtual space. In June 2020, MESSE IN ST. AGNES (MISA) was held for the first time, offering more than 200 artworks, from the primary and secondary market. In April 2021, KÖNIG joined forces with MCM and opened a new exhibition space for contemporary art in Seoul, Korea.
KÖNIG GALERIE regularly participates in international art fairs such as Art Basel fairs and Frieze Art fairs. The gallery has successfully placed works in a variety of private and public collections, including the Museum of Modern Art in New York and the Guggenheim Foundation. The artists represented have solo exhibitions with institutions worldwide, and regularly partake in prestigious group exhibitions, such as Documenta and the biennials in Venice, Berlin, New York and others. They have been awarded many important prizes, commissions and outdoor projects. In 2019 the artist Natascha Süder Happelmann presented the artistic contribution for the German Pavilion at the 58th International Art Exhibition of La Biennale di Venezia. Moreover, the gallery publishes a biannual magazine which features the represented artists and their communities.
Amalia Pica is represented by König, Berlin/London/Seoul, Herald St, London and Tanja Bonakdar, New York
König London